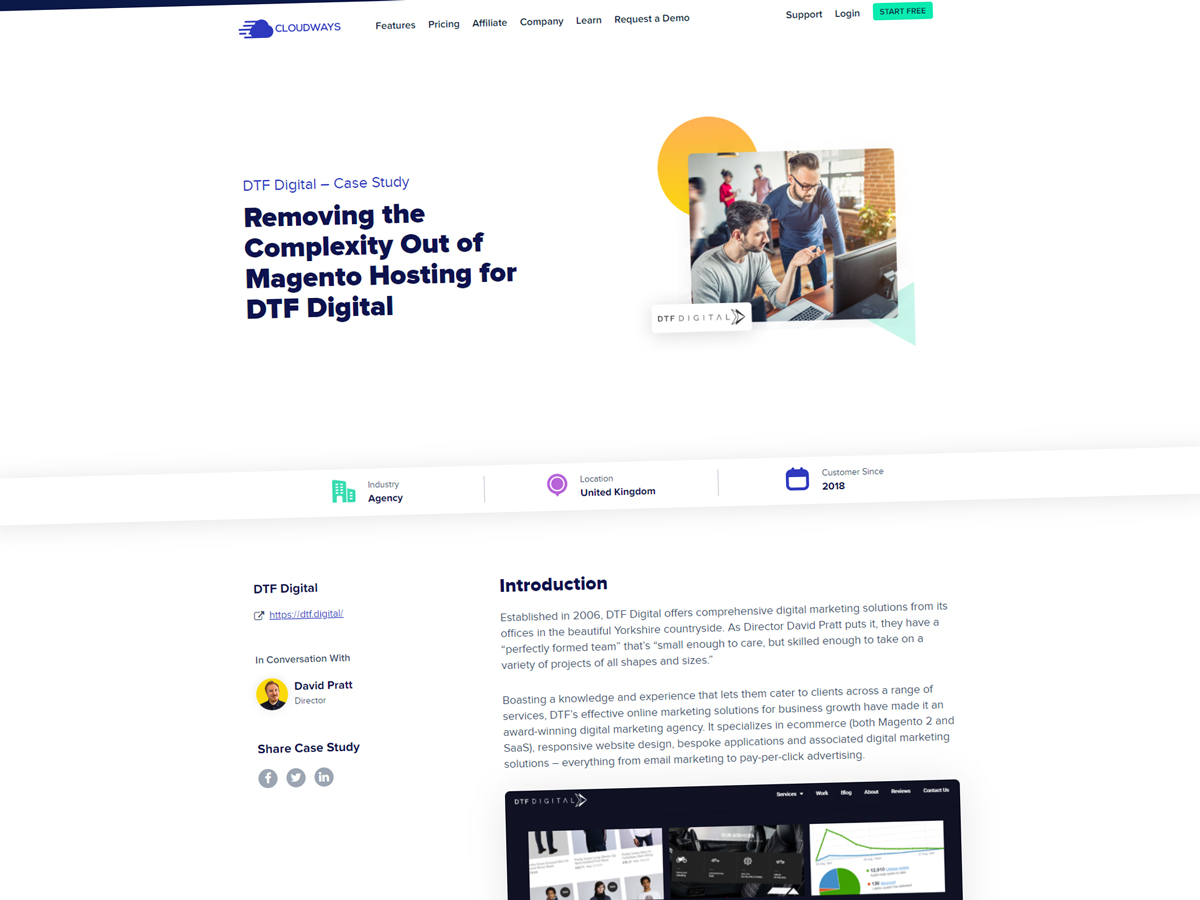 DTF Digital Director, David Pratt, has recently spoken with Cloudways, one of the leading cloud hosting providers for websites and ecommerce stores.
As a founding agency partner with Cloudways, we were asked by to document our experience using their systems. More specifically they were interested in how it's helped us when working with Magento 2 websites. Having used Cloudways for a number of years, we were more than happy to be featured in their case study. Cloudways have dramatically reduced the amount of time we spend on server management. This allows us to focus on clients and their projects.
DTF Digital Director, David Pratt was put into the spotlight, here's a few highlights:
Cloudways: How did you first hear about Cloudways?
David: A new client was already using Cloudways for their hosting and was finding it to be a very reliable solution for their ecommerce website. We tested some of our own sites on the platform and were impressed with the results. The main issue we've had with other providers is support and server management. It's nice to know that Cloudways can offer that to us, as it takes away some of the headaches and focuses on what we do best – creating great digital marketing solutions for our customers.
Cloudways: Why did you opt for Magento, when there are several great ecommerce platforms in the market?
David: We've worked with Magento since its initial release in 2007. Back then, we did freelance work for other agencies. Magento was the new kid in town and everyone was talking about it and wanting to become early adopters.
It's been quite a steep learning curve, but we had the technical expertise to be able to use it. It is still in the top 3 ecommerce platforms globally, and is a real powerhouse. While we do work with other platforms such as Shopify, It's difficult to compete with the out of the box features that Magento 2 has.
Cloudways: What thought/creative process you follow when creating a Magento store?
David: Like any design project, we take a whole raft of elements into consideration. From the client's brand, to their likes/dislikes. We then use our expertise and UI/UX knowledge to create something that fits their requirements, but that also conforms to a standard in terms of what the typical website user would expect from their visit to an online shop.
Want to read more from Cloudways?